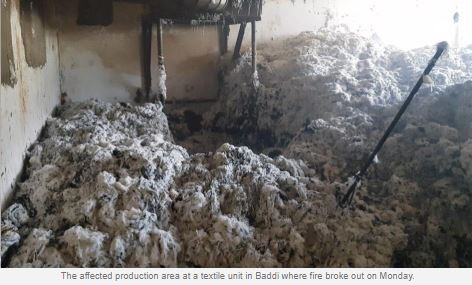 India – Labourer killed in Baddi textile unit fire
June 9, 2020 &nbsp 12:24 PM
A 19-year-old labourer, who had joined work on May 28, was killed while two brothers were injured when a spark from a machine led to a massive fire in the production area of a textile unit on Sai Road at Baddi around 9:30 am on Monday.
Prem Marandi, who hails from Jharkhand died due to asphyxiation as he was buried in piles of cotton while two brothers – Baanmali (19) and Kalicharan (23), from Jharkhand, were rescued by the blaze, said fire officer Kuldeep Singh.
He said they received a call around 9.53 am and immediately rushed to the spot. It took around 1.40 hours to douse the fire at Winsome Textile Industries with the help of two fire tenders.
He said since Prem Marandi was buried under heaps of cotton in the production area, he died due to asphyxiation while two other labourers suffered minor injuries and they were safely rescued.
The injured labourers were shifted to a local hospital for treatment. They also had joined work a few days ago.
The factory management has assessed the loss at around Rs 1 crore.
A case under section 304-A and 336 of the IPC has been registered against the factory management for causing death due to negligence, Baddi SP Rohit Malpani said.