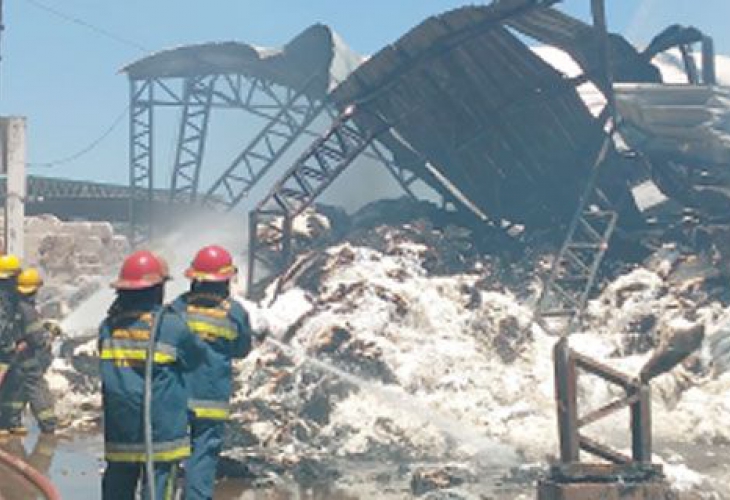 Argentina – Large fire at the ENOD Spinning Mill
October 28, 2019 &nbsp 10:41 AM
A textile mill was once again the epicenter of a fire in a sector where raw material was stored. The incident occurred yesterday morning, in the Industrial Park located in the eastern part of the capital city, where the flames left great material losses and damage to the company's infrastructure. Fortunately there were no injuries of any kind.
Several firefighters had to go to the factory, since in the collection area a significant amount of synthetic material and cotton was set on fire. About 345 tons of merchandise was lost.
The police also reported that around fifty people, including firefighters, police officers, factory workers and a road work team from the province who arrived at the place with machines to work on site and fight the accident and finish to extinguish it, despite being controlled and without risk of spreading.
Regarding the fact, the inspector commissioner Gustavo Naranjo, head of the Police Fire Department, informed NUEVA RIOJA that "in the morning hours, at 10:30 a.m., the cooling tasks at the factory were completed, which caught fire on Sunday, a large smoke curtain is observed at 600 meters, so it quickly constitutes a file of firefighters that confirms a large-scale fire in a cotton collection sector of a 930 meter shed square, immediately involved in the fire truck with full equipment, due to the magnitude of the fire, the call plan was activated for the collaboration of volunteer firefighters, forest fires.
In the mill there was production of 100% Yarn and synthetic polyester. The burned material was 75% cotton and 25% synthetic. The same was in stockpiling in a shed, the losses were about 345 tons.