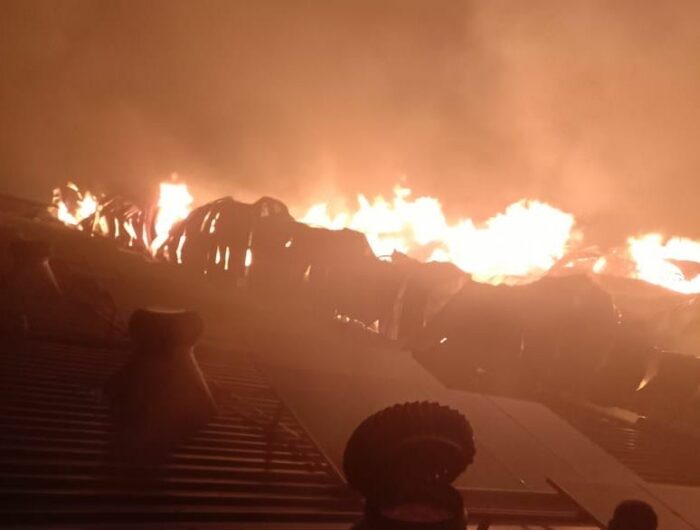 Ahmedabad India – Major fire breaks out at textile factory, 30 fire tenders needed
October 30, 2019 &nbsp 4:48 AM
AHMEDABAD: A major fire was reported at a textile processing factory in Narol area of Ahmedabad, late on Tuesday evening. Officials of Ahmedabad Fire and Emergency Services (AFES) confirmed that the incident took place around 7pm on Tuesday. Firefighting operation is still under way at the factory.
"We were informed about the fire incident at the fabric manufacturing and processing factory of Jindal Worldwide Limited in Narol, around 7.15pm on Tuesday evening. Some 30 firefighting vehicles had been deployed at the factory to douse the fire along with a team of at least 125 fire officers and staffers," said Rajesh Bhatt, additional chief fire officer, AFES.
Firefighting operation aggressively continued through the night by the team of AFES. On Wednesday as well, some 10 firefighting vehicles along with a team of at least 35 personnel, are deployed at the factory to douse the fire. The cause of the fire is yet to be ascertained, confirmed AFES officials.
"The fire took place on the third floor of the three-storeyed factory, which also has a warehouse for storing fabric. More than 50 lakh metre of fabric was stored at the factory warehouse," said Bhatt.
Losses worth a few crores are estimated, due to the fire incident. AFES officials confirmed that firefighting measures were in place within the factory. "A lot of in-built firefighting equipment at the factory was also used to douse the fire," said an AFES official.
One of the major challenges faced by AFES was accessing the factory and movement of vehicles through narrow, bumpy roads. "The road condition is disastrous in the industrial area. It is difficult for fire and emergency vehicles to get to the affected area, without a breakdown," said Bhatt.
"Lakhs of litres of water was used to douse the fire. A given tank would get exhausted in 15 minutes and refilling the same would take about an hour because of no swift movement through the road. This not just slows down the firefighting process, because whatever has cooled will start catching fire again, if spread of further fire is not prevented. At the same time, it is a waste of resources in terms of manpower and water as well," he added.
Firefighting operations are expected to continue throughout the day at the factory on Wednesday. "Our team did manage to prevent the spread of fire within the building and collapse of the floor during the operations," Bhatt explained.
In addition to this, incident, some 34 minor incidents of fire were reported in different parts of Ahmedabad, due to fire crackers landing in dustbins and waste-dumps and other places, since Saturday. However, no major casualty was reported during the Diwali festival, confirmed Bhatt.